Smart Odoo solution for your ultimate hospital management needs

Web based comprehensive suite of Electronic Medical Records (EMR), Electronic Health Records (EHR), Hospital Management Software, Hospital Information Solutions (HIS) designed to manage various aspects of any hospital, clinic and care centers now available in the latest version of Odoo 16. A functional combination of oeHealth - All in One and Odoo 16 for hassle-free healthcare management.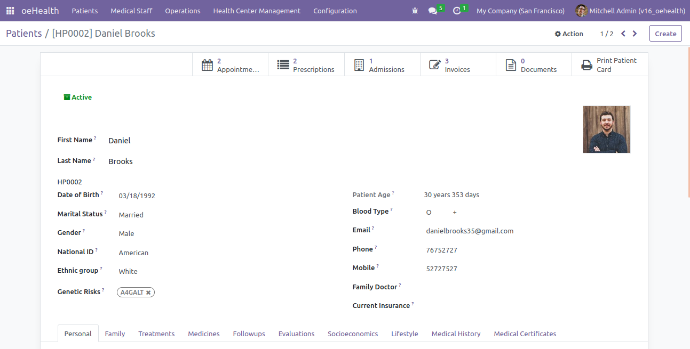 Patient Details
 Record all the necessary information related to patients such as personal & family details, prescriptions, appointments, diseases, insurances, lifestyle, mental & social status, laboratory test details, invoices and surgical histories.
Manage Medical Staff
 Configure medical staff members such as doctors, therapists & nurses.

Record important details regarding their availability, personal information, qualifications, consultancy charges.

Print Badge ID of medical staff. Appointment (OPD)
oeHealth appointment feature is available for both doctors and patients to manage their own checkup schedules.
It is also tightly integrated with Odoo's calendar control so they will be always updated for your upcoming schedules.
Prescriptions
Generate prescriptions easily by listing the required medicines with dosage information and frequency for consumption.
Create invoice for the generated prescription to be sent to in-house pharmacy and accounts department and send as an email directly to patient.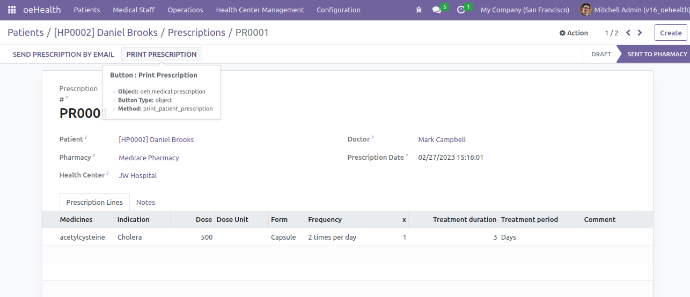 Inpatient Admission (IPD)
Manage admission procedure of your patients with super easy inpatient hospitalization process, wards and beds reservations.

The doctor can add therapeutic diets, nursing, and discharge plan information in the system to perform the effective treatment.

The module also allows doctor or health center administrative team to automatically raise payment notification at the time of patient discharge.
Accounting & Invoicing
oeHealth is tightly integrated with Odoo's default Accounting & Invoicing features.
You can easily raise invoices for different services like Doctor's consultations, Prescriptions, Lab test & Inpatient admissions directly from the app and manage different accounting tasks of your health center.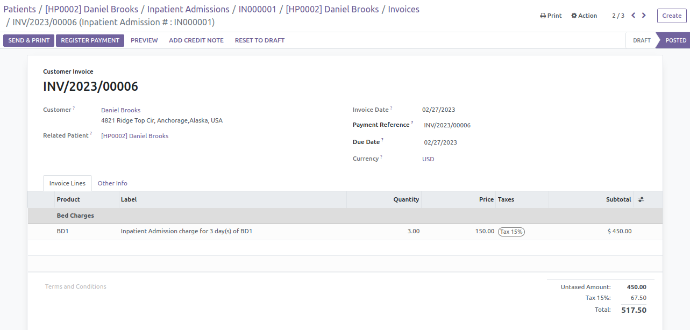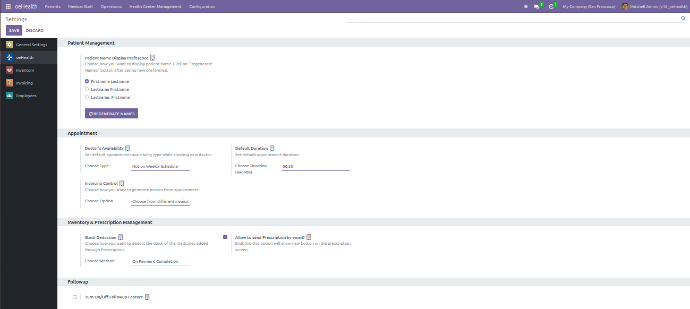 Dynamic Settings
Management of most important oeHealth operations through centralized settings option available under Odoo's General Settings panel.
Imaging Tests
Diagnose critical medical conditions with various imaging tests pre-configured with oeHealth. oeHealth allows you to perform popular imaging tests such as X-ray, CT Scan, MRI, PET Scan and so on. You can also configure your own tests.
Configure Imaging Test Departments with oeHealth.

Configure Imaging Tests types with their names, code & link it with respective department and mention charges.

Perform imaging test and attach imaging test reports.

Print report & raise invoice for the tests performed.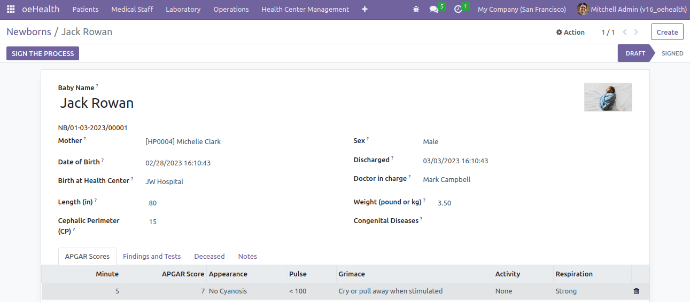 Pediatrics
A helping hand for pediatricians that comprises of all the features that helps pediatricians ease their daily tasks. Now record and manage newborns activities, their symptoms, findings, conducting APGAR tests and also record death details (if any) with Pediatrics Management module of oeHealth.

Record all necessary personal and medical details of newborns.

Assess behavioral changes in the child by recording his/her PSC details.

Record & Manage details regarding Pediatric Growth Charts as per WHO.
Surgical Management
Surgical Management feature of oeHealth allows healthcenter streamline surgery related activities from easily configuring operation theaters, to assessing the surgery criticialness, manage medical resources used for surgeries and to performing surgeries seamlessly.

Configure Operation Theaters

Revised Cardiac Risk Index

Create Surgery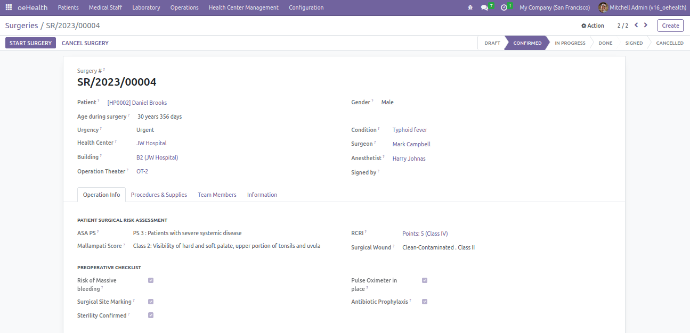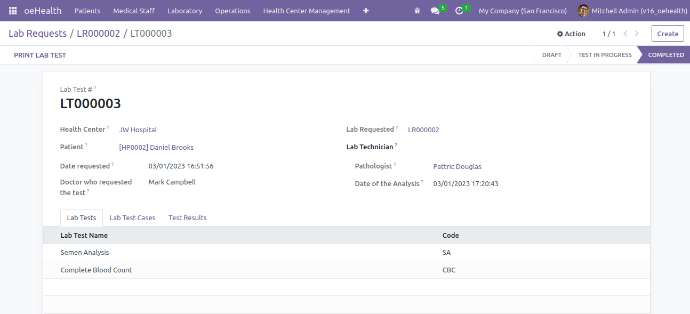 Lab Test
Perform laboratory tests now in a more seamless manner with oeHealth's Lab Test module which comes with 9 most widely used lab tests and with pre-defined parameters already in the package time.
 Configure Lab Technician

Create Lab Requests & take samples

Conduct Lab Test

Raise Invoice

Print report
Patient Portal
An online platform for patients to have complete access to their personal health information and medical records such as appointment details, test results, medical histories & treatments and so on anytime and anywhere with the use of an internet connection.

Grant Access for Patient Portal

Patients can access to Personal Health Information

Patients can create Appointment & Update Personal Details

Download Medical Certificates & view other important details